BfB Artist-Brian Shaw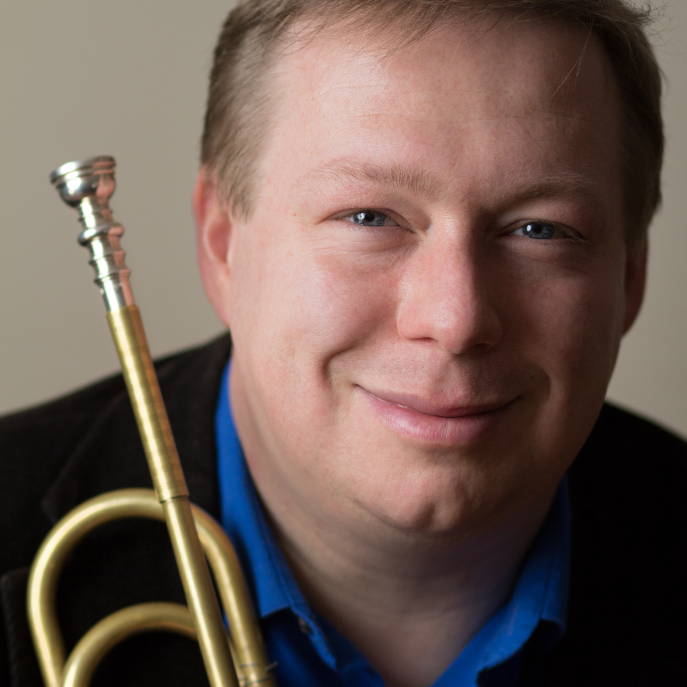 Associate Professor
Julian & Sidney Carruth Professor of Trumpet and Jazz Studies
Louisiana State University
Services
Private lessons: Baroque, modern, and jazz (Skype, or in person)

Masterclasses

Solo & chamber performances
Biography
Brian Shaw is the Julian & Sidney Carruth Associate Professor of Trumpet/Jazz Studies at Louisiana State University in Baton Rouge and Visiting Professor of Baroque Trumpet Studies at the Eastman School of Music. He is also Principal Trumpet of the Baton Rouge Symphony, Co-Principal Trumpet of the Dallas Winds, and enjoys an international performing career as a modern and historical trumpet artist.
A native of Southeastern Illinois, Brian was first inspired to pursue the trumpet when he had a front row seat to hear the great Maynard Ferguson in concert in 1988. Mentored in the public schools by his first trumpet teacher and band director Steven Bell, Brian mostly learned to play music by ear from recordings and by trial and error. He attended Eastern Illinois University (BMus.) where he studied trumpet with W. Parker Melvin and arranging with Allan Horney, the Eastman School (M.Mus) where he studied trumpet with James Thompson and jazz writing with Fred Sturm and Bill Dobbins, and the University of Texas at Austin (DMA), where he studied trumpet with Ray Sasaki.
Shaw has won prizes in four international trumpet competitions and is the dedicatee of several new works, including Brett William Dietz's concerto redshift and Joseph Turrin's Two Images. He can also be heard as principal trumpet on recordings with the Dallas Wind Symphony (Reference Recordings), the professional choral ensemble Conspirare (Harmonia Mundi), the University of Texas Wind Ensemble (Naxos), and the Eastman Wind Ensemble (Danzante, Summit Records). His books and transcriptions are published by Advance Music, Presser, Schott, and Universal Edition.
A noted Baroque trumpet player, Shaw toured Europe in early 2015 with the Boston Early Music Festival Orchestra, performing at L'Opéra Royal (Versailles), the Théâtre des Champs-Elysées (Paris), Auditorio Nacional de Música (Madrid), the Concertgebouw (Amsterdam) among other revered concert halls. His 2008 recording Virtuoso Concertos for Clarinoincludes some of the most difficult pieces ever written for the instrument and was accompanied by an orchestra made up of New York's finest period musicians. Early Music Americaobserved: "Shaw's tone is beautiful, and his playing unfailingly musical… His is a voice that will make a major mark on Baroque trumpet playing."
As a jazz musician, Shaw performs regularly on the popular LSU concert series "Hot Summer Nights and Cool Jazz" alongside his colleagues pianist Willis Delony and bassist Bill Grimes. He directs the LSU Jazz Ensemble, which has hosted such luminaries as Wayne Bergeron, Denis DiBlasio, Wycliffe Gordon, Rufus Reid, and Bobby Shew during his leadership. Shaw is also an active jazz composer, arranger, and transcriber, with dozens of scores to his credit. Currently, he is working as co-author (with Nick Smart of the Royal Academy of Music, London) of a biography titled Song For Someone: The Musical Life of Kenny Wheeler for Equinox Books, UK.
This season, Shaw will be a featured soloist at the American Musicological Society Conference in Rochester NY (Michael Haydn Concerto no. 2 in C Major), will perform in Carnegie Hall with the English Concert (Handel's Rinaldo), at Metro State University in Denver, as guest principal trumpet with Santa Fe Pro Musica, with Bach Society Houston, and a solo artist with the Acadiana Symphony (Lafayette). Recently, he has performed in concert alongside saxophonist Branford Marsalis, as guest principal trumpet of the Kansas City Symphony, made his debut on keyed trumpet (performing Haydn's Concerto in E-flat with Austin's La Follia Baroque), and was the featured trumpet soloist with the Dallas Wind Symphony on John Williams' "With Malice Toward None" from the Spielberg film Lincoln. In 2014, Shaw was the only American Baroque trumpet soloist featured in the final concert of the International Trumpet Guild Conference, and in the same year performed as a soloist with the Hong Kong Wind Philharmonia. Shaw's most recent solo CD, redshift (accompanied by the Dallas Wind Symphony), is available on Klavier Records.
Brian Shaw is proud to be a Yamaha Performing Artist.